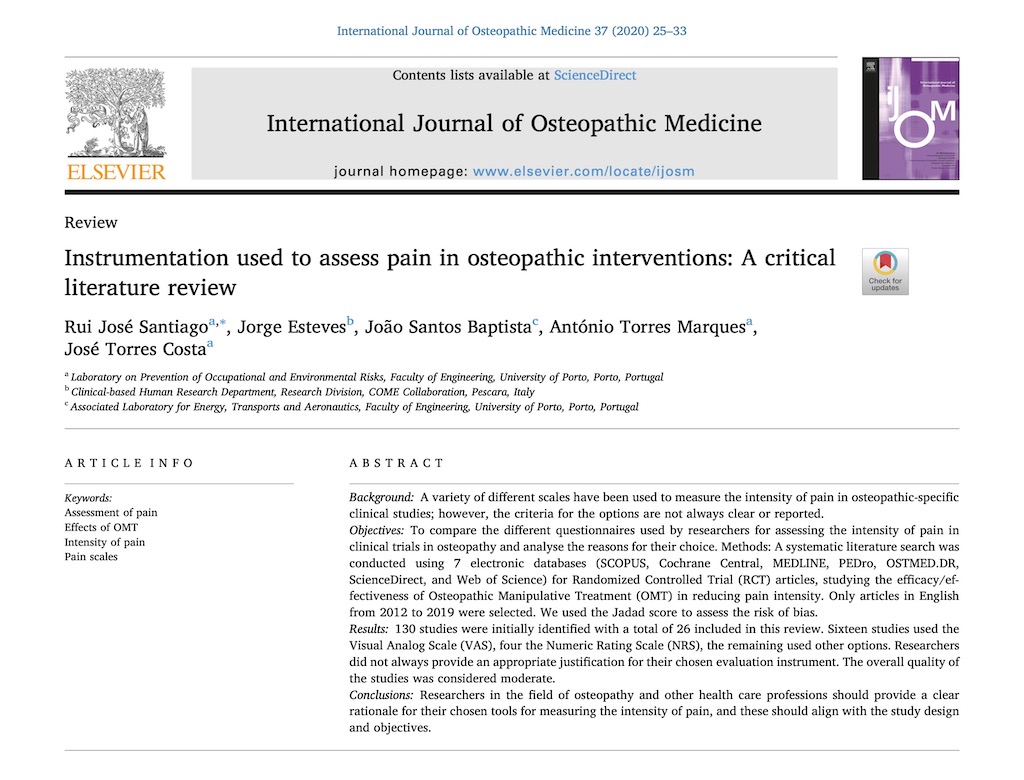 Instrumentation used to assess pain in osteopathic interventions: A critical literature review
Abstract
Background
A variety of different scales have been used to measure the intensity of pain in osteopathic-specific clinical studies; however, the criteria for the options are not always clear or reported.
Objectives
To compare the different questionnaires used by researchers for assessing the intensity of pain in clinical trials in osteopathy and analyse the reasons for their choice. Methods: A systematic literature search was conducted using 7 electronic databases (SCOPUS, Cochrane Central, MEDLINE, PEDro, OSTMED.DR, ScienceDirect, and Web of Science) for Randomized Controlled Trial (RCT) articles, studying the efficacy/effectiveness of Osteopathic Manipulative Treatment (OMT) in reducing pain intensity. Only articles in English from 2012 to 2019 were selected. We used the Jadad score to assess the risk of bias.
Results
130 studies were initially identified with a total of 26 included in this review. Sixteen studies used the Visual Analog Scale (VAS), four the Numeric Rating Scale (NRS), the remaining used other options. Researchers did not always provide an appropriate justification for their chosen evaluation instrument. The overall quality of the studies was considered moderate.
Conclusions
Researchers in the field of osteopathy and other health care professions should provide a clear rationale for their chosen tools for measuring the intensity of pain, and these should align with the study design and objectives.